June 4, 2023
The Preserve at Ardmore Celebrated at Ribbon Cutting
Michael Pineda, The Ardmoreite, 4 June 2023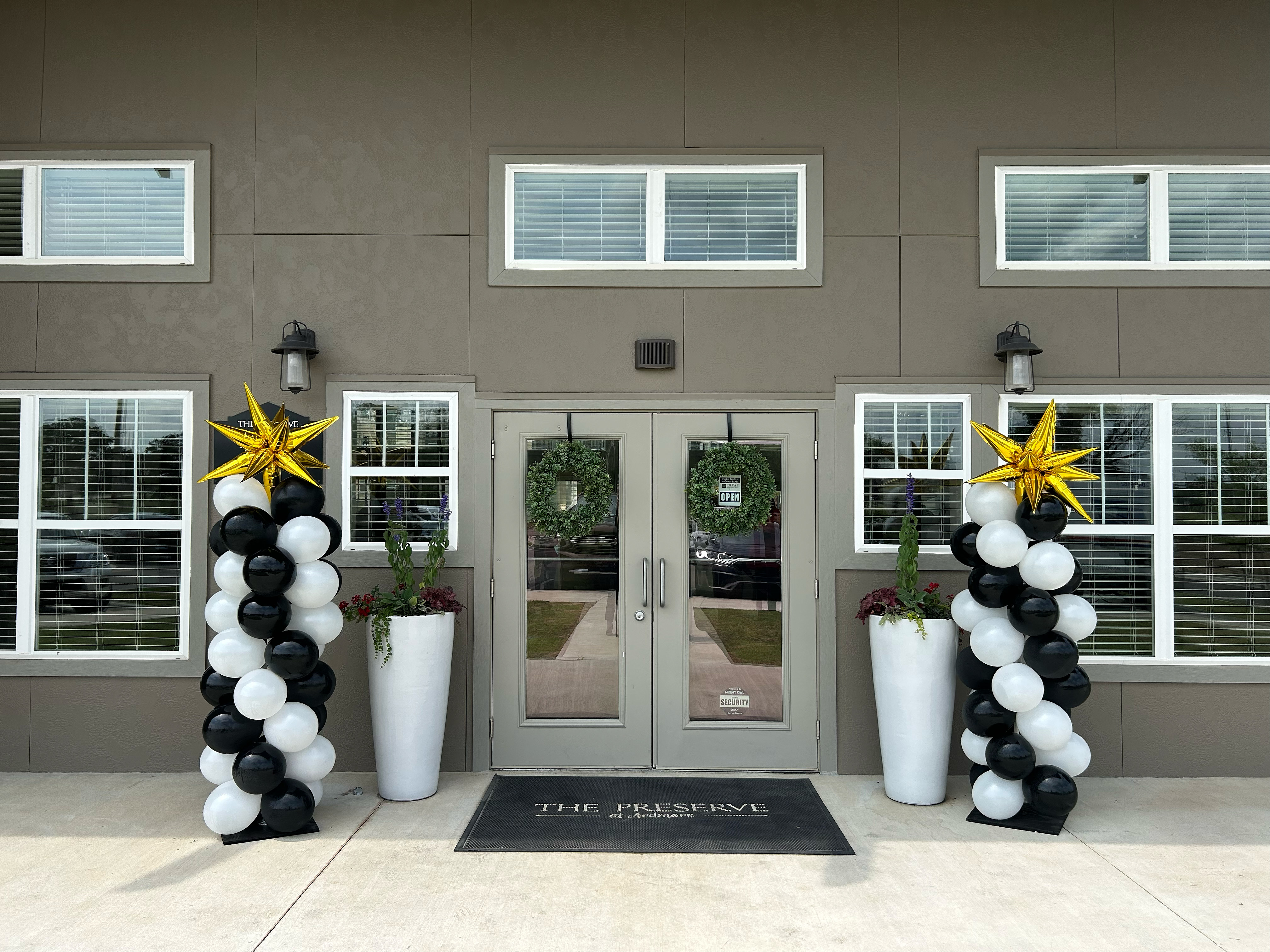 The new apartment complex covering over 18 acres off Veterans Boulevard drew a crowd of Ardmore officials and citizens to celebrate the brainchild of developers Scott Chapman, Bill Dolman and Brent Pickle Thursday. It also served as a healthy reminder that Ardmore has a habit of finding solutions for Ardmore issues. A ribbon cutting celebrated the opening of The Preserve at Ardmore apartment complex. The Class-A facility consists of 223 units ranging from one, two and three bedrooms along with 87 garages. "We started this project in 2015, it has been a long process," Chapman said. "Our first meeting, we sat down together, and we said, 'We can all agree on one thing. We don't want to be the guys that are going tobuild a project.' Well, it didn't turn out that way."
Chapman said there was a need and when the project failed to garner interest due to the booming economy, he along with Dolman and Pickle decided to move forward.
"We decided that we would do it ourselves," he said. "We are not developers. This is our first project and when we took on a project, we really took on a big one."
Chapman said they leaned on experienced professionals, highlighting Bill Owen and Fenix Construction, which is responsible for numerous construction jobs throughout the city. Other entities were also recognized by Chapman, who talked about the struggles that came with developing a project the magnitude of The Preserve at Ardmore during a pandemic.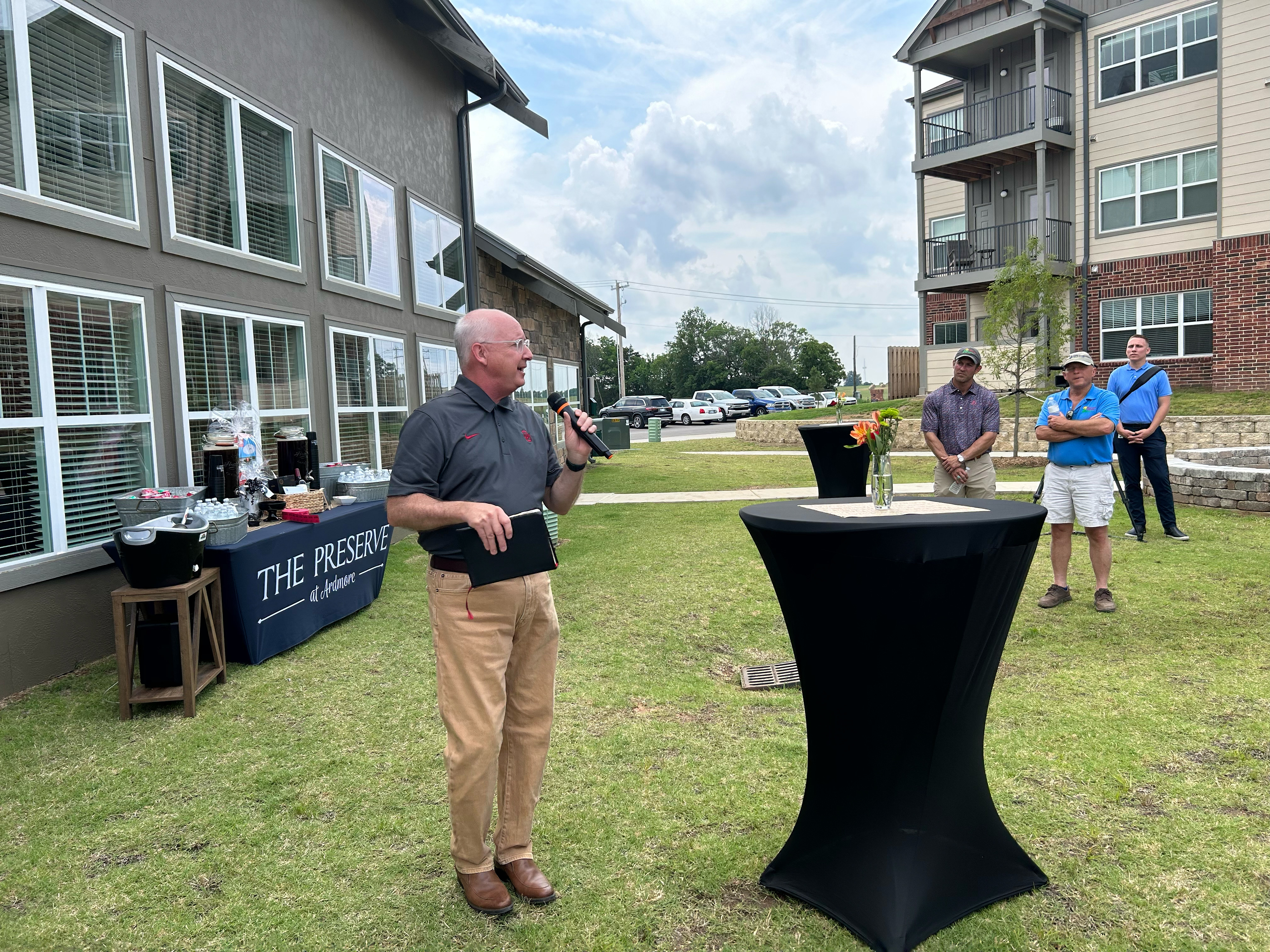 "It has been a tough project," he said. "We had this vision before the pandemic hit that was what we were going to do. And then the pandemic hit. How were people going to look at this? But First National Bank stepped up and helped finance this project. First National Bank is a great example of a community bank and what community bank's do for small communities across the country. We could not have gone to a large bank to make this happen. They would not have even looked at us. First National and the partner banks they work with helped, they made this happen.
"Bob Bates was with us the whole way, Jason Roberts now. Clayton Lodes stepped up and really sealed the deal for us and Jake Charnock and the board of directors who had faith in us we could make that happen. We appreciate them for making this happen."
The contribution of a group made up of local investors was also praised. Chapman described the complex as an Ardmore project, from the financing to the bank and building.
"We did as much as we could locally and we are very proud of that," he said.
Chapman said the end result was what he envisioned. The goal was to bring the only Class A apartment living to Ardmore, a place with great amenities. The Reserve features a pool with an outdoor kitchen, it has its own dog park and dog spa along with a fire pit while being located next to a city park.
"We wanted something that had a very clean profile," he said. "Something that is going to look good for years. Kind of be timeless in its design. We wanted a lot of green space, we have really worked to have a lot of trees. There are several hundred trees that Marcum's has planted."
Ardmore Development Authority President & CEO Bill Murphy said the complex addresses a significant need within the city. The authority conducted a housing study in 2021, which the complex will be able to help address.
"I think this is a great example of Ardmore individuals coming up with a solution to an Ardmore problem," Chapman said. "I said problem, but it is really finding a solution to a need that we have in the community. "We couldn't be more excited about what the Chapman family and others bring to the investment group. Everybody that came together to make these apartments a reality. They will play a big role in our ability to keep existing companies here in Ardmore and as importantly, they will be helpful in bringing new investments into Ardmore."
Among the features of the complex is has access to the city's walking system and it is close to Ardmore High School and Middle School. It will also be ideal for Murray State College students as that campus continues to grow and develop. The interstate is just down Veterans Boulevard, and it is close to the businesses off Commerce Street.
"It is a great project, and it is a community effort," Mayor Sheryl Ellis said. "We needed this. The housing study proved that we needed housing and local people stepped up with any effort they could assist with to bring this to fruition.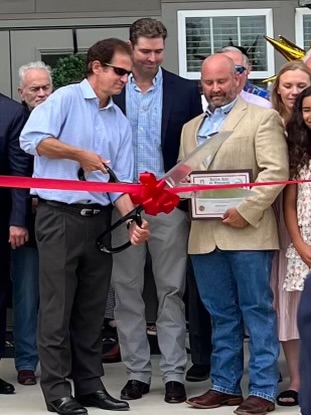 "If there is an issue and outside help is not available, this community will typically find a way."
Following the presentation and Chapman's thanks to all those who made the vision possible, tours of apartments were conducted, and food was served. There were also door prizes as congratulations and well-wishes were offered. It was a fitting time to reflect on what had been accomplished.
"I feel relieved, it has been a really long process," Chapman said. "We broke ground on this in September 2020 and we are now in June of 2023. It has been a long project. It started in a pandemic, and we have gone through the pandemic and historic interest rate rise. It has been stressful, but we had a belief in the project, the need for the project and we are very happy it has gotten done. I think there will be a lot of relief and we will sleep at night, I guess."
This article originally appeared on The Ardmoreite