August 18, 2022
RREAF's Summer Internship Program Comes to a Successful End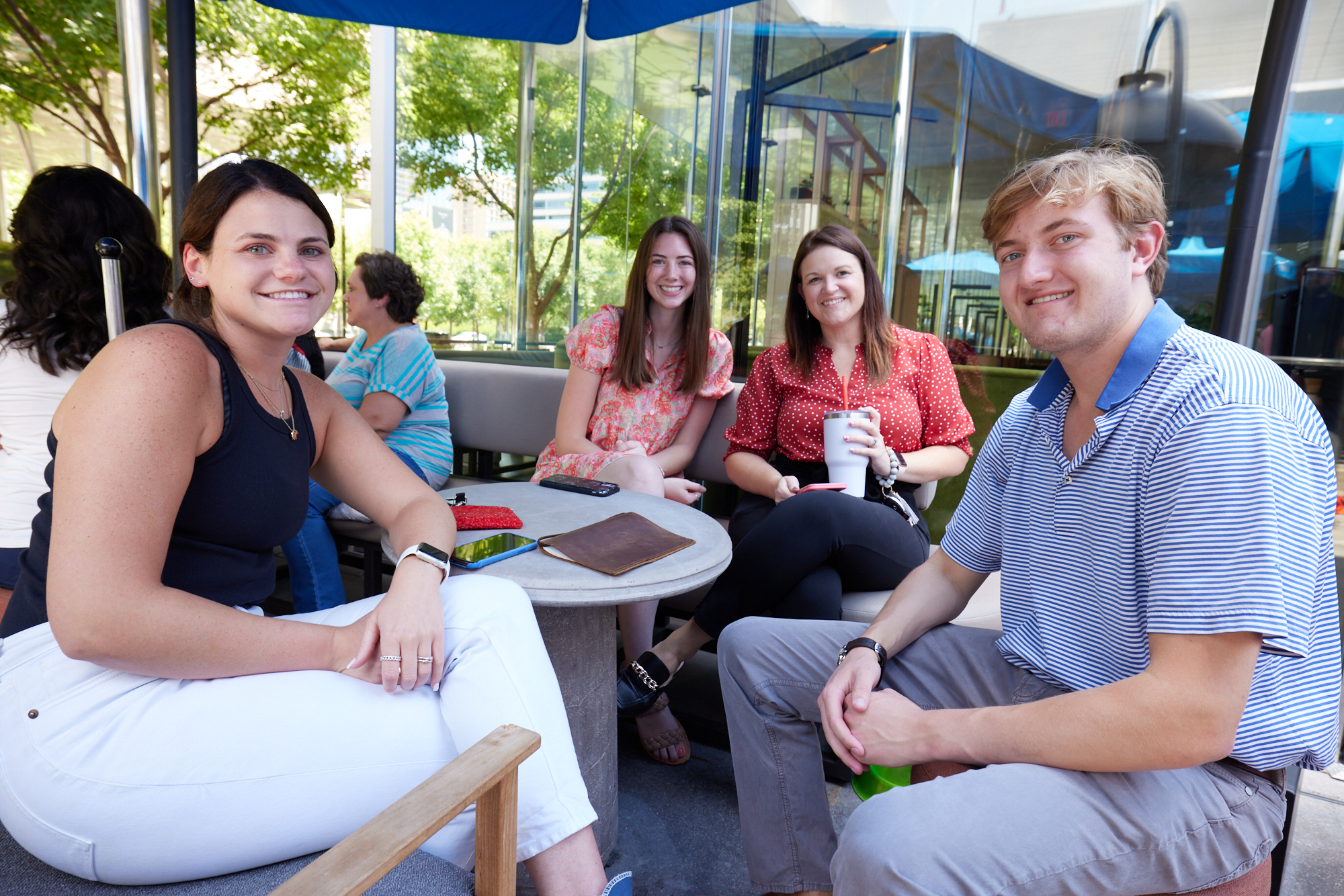 Three of RREAF Holding's interns, Skylar Shaw (Left) Alex Stevenson (Middle-Left), Steven Mason (Right) at RREAF Holding's "Intern Farewell Happy Hour" with RREAF Construction staff and mentor Kelly Klosterman (Middle-Right)
As summer winds down, we celebrate another year of our Summer Internship Program! Our team of interns spent their time at RREAF filled with hands on experience in their specific departments partnered with weekly lessons in RREAF Academy. RREAF Academy offers a glimpse into all aspects of RREAF so no matter what department our interns were in, they got a chance to see all different sides of RREAF. We asked a few of our interns about their time with us and what they learned.
Steven Mason
"Over these last 2 months, I learned a great deal at RREAF Holdings. This opportunity was my first experience interning for a commercial real estate company. From my first day to my last, everyone at RREAF was welcoming to me and the other interns. I worked in construction services where I learned the ins and outs of the business, and what makes a property valuable. One of my best experiences at RREAF was my week onsite at a multifamily development project in Salado, Texas. Here I learned about project management and how to operate Procore. I also learned how to build financial models for potential build-to-rent projects and greatly improved my skills in Excell. I am grateful for this opportunity, and I look forward to applying to future internship opportunities at RREAF next summer."
Ryan Torabi
"I learned a lot through my time here at RREAF Holdings. This was my first experience in a Real Estate Private Equity firm. I learned the ins and outs of how the company runs and how databases are being constantly updated and created to provide accurate information on the properties. I had a great time with everyone and felt welcomed by the people around me. Cole mentored me in many ways and taught me how to create these spreadsheets. While doing that I learned lots of new formulas and strengthened my understanding of pro formas, database collection, and equity waterfalls. I felt like I contributed a good amount during my time here and I am grateful that I took this internship. In the future I will look for open positions at RREAF Holdings and apply to them."
Alex Stevenson
"This summer I had the pleasure of interning for RREAF Construction Services. Though I had internships in the past, this was my first one in the construction industry. Going into the internship, my only expectation and hope was to learn everything about construction that they do not necessarily teach you in college. I was able to assist in ongoing project schedules, budgets, RFIs, owner meetings, and site visits. I also got to review and estimate plans while doing a takeoff, build prospectus packets, file permits, and work on contracts for new upcoming projects. Doing these things was the perfect application of the knowledge that I gained in my courses. However, it is the conversations with the rest of the construction team that met my goal for this internship."

"The people I worked with were the ones to tell me the ins and outs of the industry. They were able to tell me what happens when a project isn't going to plan because something always comes up between the budget, schedule, or materials. Knowing how to problem solve is the key to a successful project and successful business. RCS is on its way to being just that, a very successful company, and it is all due to the commitment of the team. This team is hard working, experienced, knowledgeable, and so inviting. I had a great summer working for RREAF and I am so grateful for all that it gave me."