January 26 2023
RREAF Holdings Announces Multiple Promotions, Hires to Boost Continued Expansion
Lance Murray, Dallas Innovates, 26 January 2023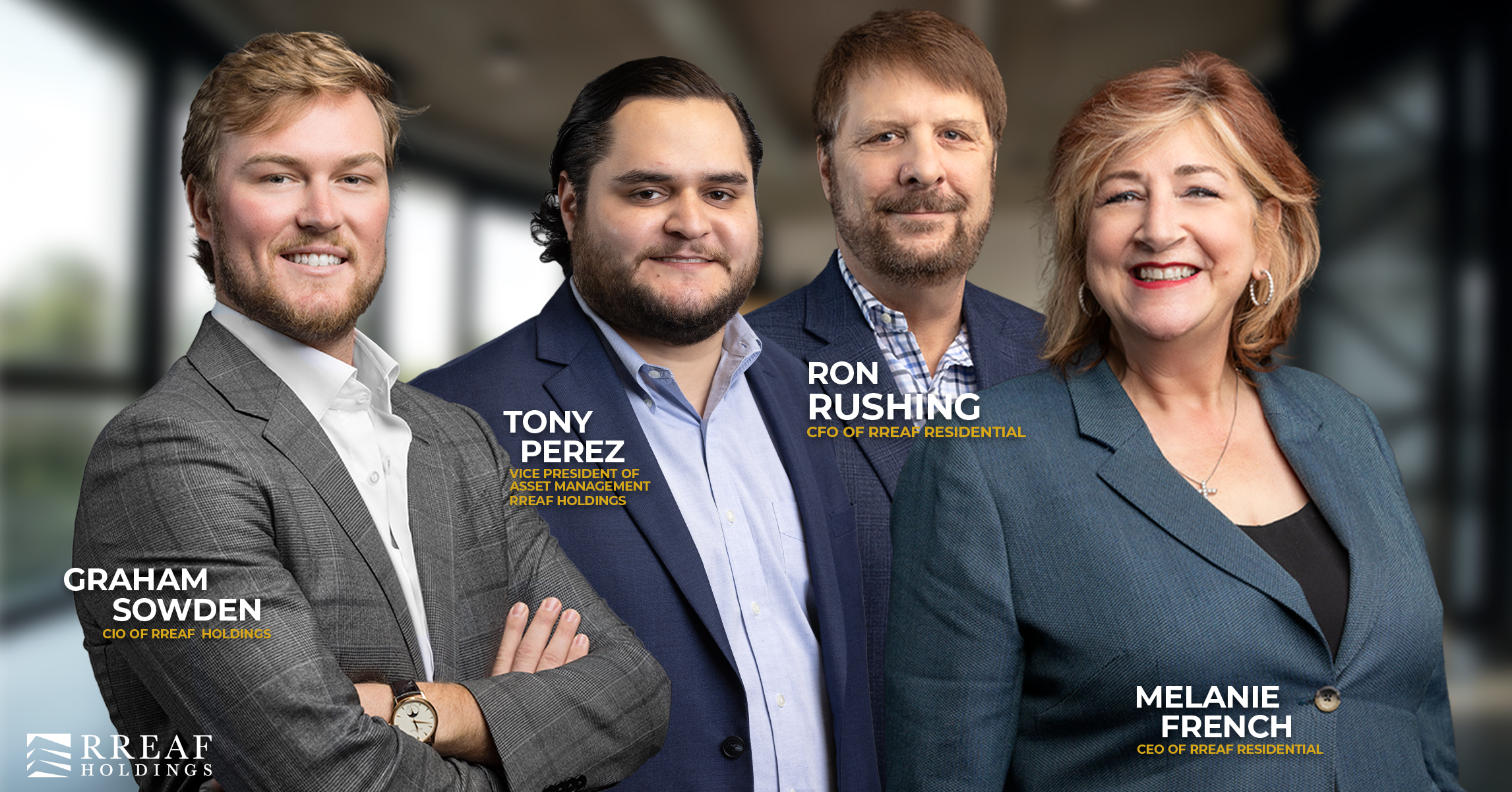 Dallas-based private real estate investment and development firm RREAF Holdings announced a number of promotions and hires across the company as it continues to expand across its six platforms to meet unprecedented growth.
Graham Sowden, former director of acquisitions, has been promoted to chief investment officer. Tony Perez, previously director of asset management, has been promoted to vice president of asset management. Melanie French and Ron Rushing join RREAF Residential as chief executive officer and chief financial officer, respectively.
Sowden joined RREAF Holdings in 2016 and has been directly involved in the sourcing, underwriting, and acquisition of more than $3.5 billion in asset value including over 22,000 multifamily units. He has played a large role in the overall direction and strategic planning for the multifamily acquisition platform, formed in 2015 and has been responsible for coordinating all RREAF's dispositions, the company said.
Perez joined RREAF as an accounting intern in 2016 and his responsibilities have grown to span functions of accounting, asset management, and investor relations. In his new role, Perez will oversee asset management across all asset classes including multifamily, hospitality and ground up development and will report to the chief operating officer.
"We congratulate Graham and Tony on their achievements that led to acceleration at RREAF. The firm's outstanding growth to over $5 billion in assets is a testament to their hard work and commitment to success," RREAF Holdings COO Jeff Holzmann said in a statement. "Additionally, we welcome Melanie and Ron to RREAF Residential. With such strong backgrounds and industry knowledge, we look forward to seeing their expertise shape the future of our property management firm. We're grateful to all our employees and are eager to kick off 2023 as our teams continue to expand."
Veteran leaders in C-suite roles
French comes to RREAF Residential after previously holding executive level multifamily leadership roles for more than 20 years. Her executive role responsibilities included overseeing property operations, human resources, talent management, customer experience, sales management, facilities, interior renovations, and capital project management. Also, she held corporate support functions for both publicly traded and privately owned organizations ranging in size from 10,000 units to more than 200,000 units.
Most recently, French was the president and managing principal for DLP Capital's Real Estate Management and Asset Management arm. Before that she was the EVP of operations for Cortland, where during her six-year tenure, she led all property operations and was instrumental in growing the property management platform from 9,000 units to more than 55,000 units while also overseeing more than 40,000 interior renovations.
Rushing brings more than four decades of experience to his new role. He's an award-winning CFO with results-focused leadership skills for growing companies like RREAF Residential, RREAF said. Rushing is a CPA and Certified Treasury Professional with Big Four audit background.
This article originally appeared on Dallas Innovates