May 23, 2022
Midlothian development with lakeside beach to include about 8,500 single-family homes
A Dallas company behind the project is focused on bringing thousands of homes to areas to high growth.
A massive master-planned community spanning almost 3,300 acres is in the works in Midlothian, with the highlight being a lakeside beach lined with activities for residents.
RREAF Communities, a division of Dallas-based RREAF Holdings, is developing the project 4 miles south of U.S. Highway 287 with about 8,500 single-family detached homes as well as 3,000 rental homes and apartments.
The company acquired the bulk of the property last May. The site is just south of the intersection of FM663 and FM875.
The project will also include amenity centers, trails, parks and a town center with restaurant and retail space. It will also have land for schools, churches, fire stations and safety services.
"We expect that it's going to have a very positive impact on that area," said Shannon Livingston, president of RREAF Communities. "We feel like we'll provide a place where other goods and services that people now are driving to can actually access more quickly out their back door."
Development will take place over roughly 10 to 15 years. RREAF is aiming to begin infrastructure work early next year, with the first homes expected to be available by 2025.
Plans for the first phase include about 450 home lots, 230 apartment units and 200 single-family rental homes. RREAF expects it will likely develop the apartments and rental homes itself.
The company will create a beach environment along the property's existing lake with a lazy river and pool as well as pickleball courts, tennis courts and an event pavilion.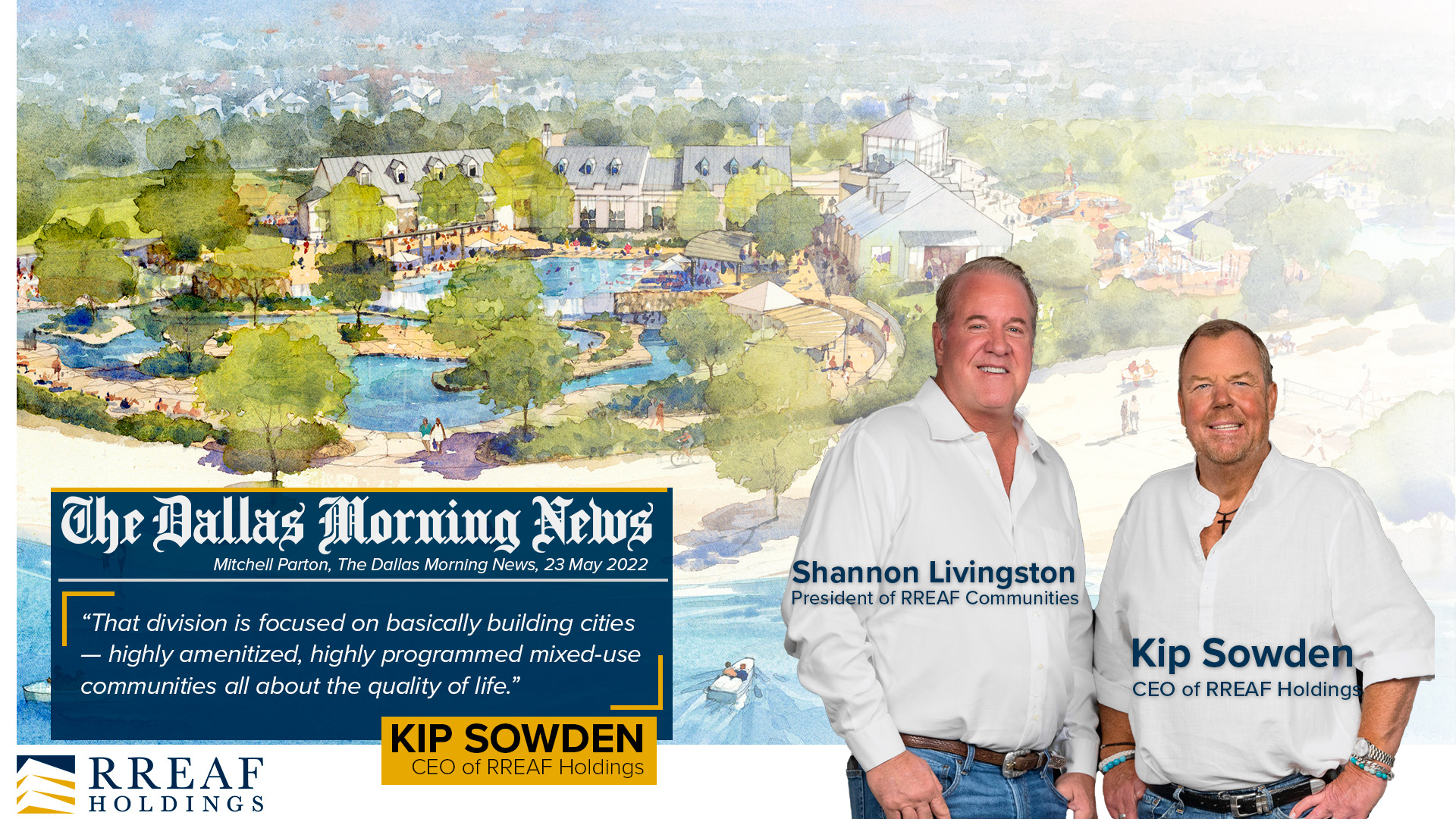 "It's perfectly situated to be able to be seen and enjoyed by people for years to come," Livingston said.
RREAF Communities launched in 2020 to acquire and develop large-scale master-planned communities in the path of growth in rapidly expanding markets.
"That division is focused on basically building cities — highly amenitized, highly programmed mixed-use communities all about the quality of life," said Kip Sowden, chairman and CEO of RREAF Holdings.
RREAF is also developing a 3,173-acre master-planned community in Caldwell County between Austin and San Antonio.
"We're working hard to try to meet demand for the explosive growth that is going on in Texas and other areas, where supply is just so tight that there's not housing available for folks," Livingston said.
RREAF Holdings has been in commercial real estate for 35 years and owns more than $4 billion in assets. It completed just over $1.3 billion in deals last year and expects to top that this year.
Its multifamily division owns 70 communities throughout the South and Southeast. Another arm of the company owns beachfront hotels and resorts and is building a large hotel along Pensacola Beach in Florida.